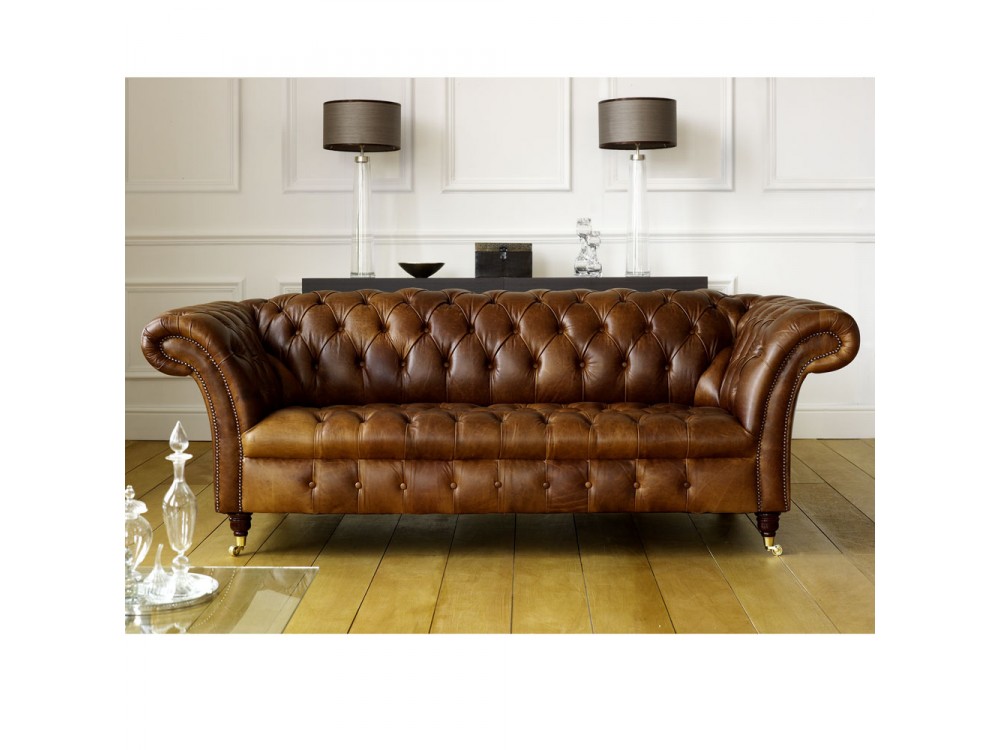 Which is more comfy – a buttoned or cushion seat Chesterfield sofa ?
I often hear the question, "which is more comfortable, a buttoned seat Chesterfield or a cushioned seat Chesterfield sofa ? "
Off course the answer is very subjective, what is comfortable to one person could be considered uncomfortable to others. It is sometimes spoken that a Chesterfield Sofa is not only comfy, but also provides a sitting position that can help improve posture and be beneficial to some people with back problems. That said i've often heard from many people, "there is no way I would ever own a Chesterfield Sofa, they are far too uncomfortable."
Which of the two opinions are correct is down to you, which variation of the chesterfield sofa should be considered the most comfortable is a very personal decision, but there are some differences that can be explained……….
A buttoned seat Chesterfield Sofa, a buttoned seat sofa, or a fixed seat chesterfield are all references made to a sofa which doesn't have seat cushions. The Barrington Sofa shown below, has a buttoned seat and this is created by hand tufting the seat platform and buttoning the leather over a strong base.
The base of the sofa has to be strong and supportive as it is not possible to plump or manipulate a buttoned seat sofa as you may be able to with a cushion seat. A good Chesterfield sofa with a fixed seat should be made by covering foam over a strong serpentine sprung base platform tied with 'Silent Wires'. The metal sprung base provides long last support to the seat and the silent wires tie the springs together to spread the weight distribution when sat on adding to the comort and longevity of the sofa. A high density foam should be used over the springs to provide long lasting recovery or shape. High density doesn't mean hard, but refers to the level of recovery in the foam. It is however generally regarded that a button seat Chesterfield is harder to sit on than a Cushioned Seat Sofa.
This is particularly valid when compared to the Rosebury Brown Chesterfield Sofa shown above, which features a duratec interior. The Barrington buttoned seat, grand in stature, with a subtle design change is now the Rosebury – a more inviting homely and cosy design simply with the use of a Duratec interior plump cushion in place of the buttoned seat. Duratec is the only 'fibre' product to be awared the gold star from British Furniture Industry Research Association, for it's environmental benefits and product inovation. Duratec is reported to provide 95% loft retention over 5 years use tested to the weight of an 18 stone adult. Duratec is also made from recycled plastic bottles, a real help in reducing UK manufacturers carbon footprint.
The Rosebury and the Barrington are actually the same sofa design, both of which are available from The English Sofa Company. The difference in appearance is the choice of leather used in the upholstery, but visually distictively changed by the use of a plump duratec seat cushion on the Rosebury which not only softens the seating experience, but it also considerably softens the look of the sofa.
Which of these is more comfortable, only you can decide, but if the purchasing decision is on style and grace, then you can't look past the Barrington buttoned seat sofa, there isn't anything more graceful than a quality vintage leather sofa, which is probably one of the best chesterfield sofa.
Both examples above are shown in quality aniline and vintage aniline leathers, however they are also available in fabric. if you have now decided on a Chesterfield buttoned or cushioned sofa, next choose if you want a leather or fabric chesterfield, another personal decision.
Which is best for you and your family ? Check out our great blog on fabric chesterfield sofa.