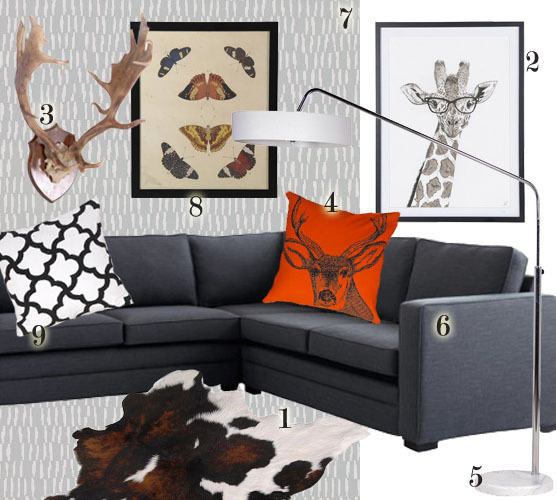 The clean, streamline designs of Scandinavian décor are hugely popular right now. And rightly so! Scandinavian style furniture focuses on light hues, natural tones and wood elements. When all of these are put together, the final result offers a both stylish and practical space, that reflects a minimalistic, yet eclectic style.
We've put together the above Scandinavian décor mood board to show how you could potentially put this theme together. Our chosen pieces are mostly practical options and if you absolutely love any of the products shown, details of them are as below. Simply contact us for details on how to order.
1. Small natural hide rug
This 3 colour natural hide rug perfectly reflects the nature-based aspect of Scandinavian décor.
2. Giraffe in glasses print
Quirky and fresh, this will lighten up the mood of any room and the black frame fitswith the theme perfectly.
3. Large Antlers Wall Plaque
No Scandinavian themed room is complete without wooden accessories and this one would act as a beautiful statement piece in your space.
4. Orange stag cushion
Adding colour to what otherwise could be a very neutral room, this cushion offers a fun element to your Scandinavian décor themed space.
5. Chrome and white floor lamp
Light, bright, simple and practical – the perfect lighting choice for your Scandinavian style room.
6. Trafalgar Fabric Corner Sofa
Often, Scandinavian style sofas are light in colour, however, this might not be the best option for a large and busy family. The contemporary aspect of this sofa would fit beautifully in your room and the colour, size, layout, and availability as a sofa bed, is perfect for everyday family life.
7. Irregular dash wall covering
Much like sofas, Scandinavian style walls are often left white, or neutral in colour. However, for family life, this Flexo printed, high quality wall covering would make a perfect substitute.
8. Large butterflies print
This wall print adds a pop of colour and an interesting feature to your room, whilst most definitely sticking to your theme. It corresponds perfectly with other aspects of your space, such as light wood furnishings and plain walls.
9. Tile pattern cushion
Contrasting patterns add lots of personality to a room and this one goes perfectly with your Scandinavian theme.