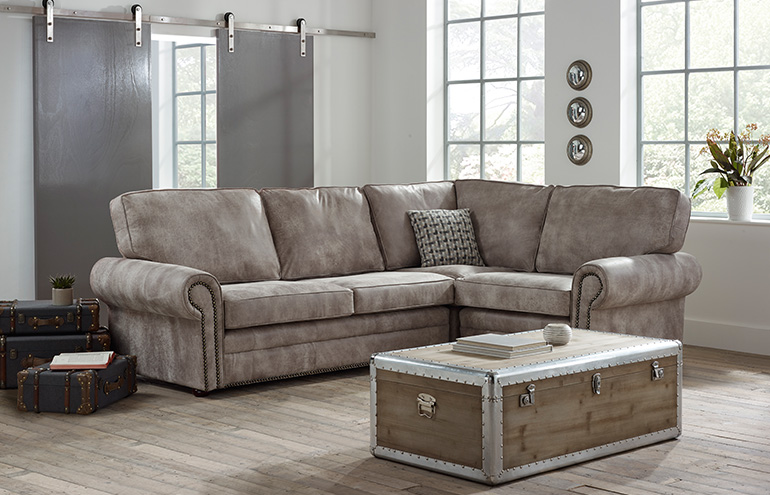 Autumn is always an exciting time here at The English Sofa Company – not that every day isn't mind you! But it is around autumn that we usually introduce a variety of new products on to our website for our customers to choose from. This year however, we did things slightly differently and instead of introducing a variety of new sofas, we listened to our customer feedback and introduced a variety of new accessories to help accompany our existing sofa range, as well as adding just one corner sofa to help fill this category.
Our new Portland Contemporary Corner sofa is bold and characterful. The new design features large curved arms, deep padded seat cushions and is highlighted with large brass studs. Designed from user feedback, each cushion and panel of the sofa has been kept plain in appearance and has been generously filled to provide a deep comfortable sit.
For our accessories, we wanted to provide customers with a variety of contemporary styles to choose from. Having received excellent feedback on our Parisian Chaise Lounge – a classic design brought up to date – we choose to design a pair of Fireside chairs that were both comfortable and had great customisation available. Available as either a plain back chair or a vintage styled buttoned back chair, both chairs are available in our huge range of fabrics, including a range of velvets and wools to suit individual tastes and needs.

Built on the same frame, our brand new Vienna Contemporary Bedroom Chair & Paris Mermaid Chair is the perfect accompaniment for either your bedroom or living room. Both these chairs are simple and effective with large comfortable seat cushions and tapered legs they will both bring character to any room set, but perhaps one more than the other!

Featured on the left is our Paris Mermaid Chair, with our Vienna Contemporary Bedroom Chair featured on the right.
Along with adding new products to our range, we have also introduced a variety of new leathers and fabrics to our range. Our new leathers add character and charm to the existing range, whilst our fabrics add colour variation and shade variation for our most popular colours.
The main arrival this year was our Dejva Vu and Tribe ranges of leather. Featured in our Portland Leather Chaise Photoshoot, our Tribe Light sand leather hails from our Premium range and features a distressed look with varying tones and shades running throughout. Our De Ja Vu range of leather is very similar in texture to our Tribe range. It uses a variety of oils and waxes to achieve a very soft and subtle texture and feel and is also a very durable leather if treated correctly. It's bold character and lovely texture is sure to be a success with customers that purchase from our Vintage style of sofas!
Due to popular demand last year, we have also added extra variation to our Antique range of leathers. Durable dyed leather that is rubbed by hand to create a distressed and multi tonal effect, our antique range of leather is usually reserved for our Vintage and Chesterfield range of Sofas. To this range we have added Antique Blue and Antique Oliver.
If you have any queries about any of our products, our leathers or production process please feel free to ring our friendly sales team on 0161 736 5733. Our team of experts can tell you all you need to know about the wide range of leathers and accessories that we offer and can help you to choose the right leather or fabric to suit your needs!