Spring Home Decor – Light at the end of the tunnel
Have you got your spring home decor in mind yet? With springtime around the corner, there is arguably no better time to update your home decor.  Springtime refers to ideas of rejuvenation and rebirth, and that is exactly why we believe it's the perfect time to give your home decor a new lease of life.
Is your old sofa sagging? Fading and outdated? Or is it simply time to clear out the clutter? Well, there is no better time to refresh your home decor with the spring season in mind.
The days of waking up in the freezing cold will soon be gone.  Instead, we can expect (or hope at least) to rise with a ray of sunshine gleaming into our homes. 
Here at The English Sofa Company, we recommend a classic but contemporary sofa that will dazzle your guests this spring.  Our handmade sofas are made to order, with thousands of leathers and fabrics to choose from, meaning the choice is all yours.
To help you rejuvenate your home decor, we have put together a mood board with a few spring home decor ideas that will also help with your spring clean. Enjoy!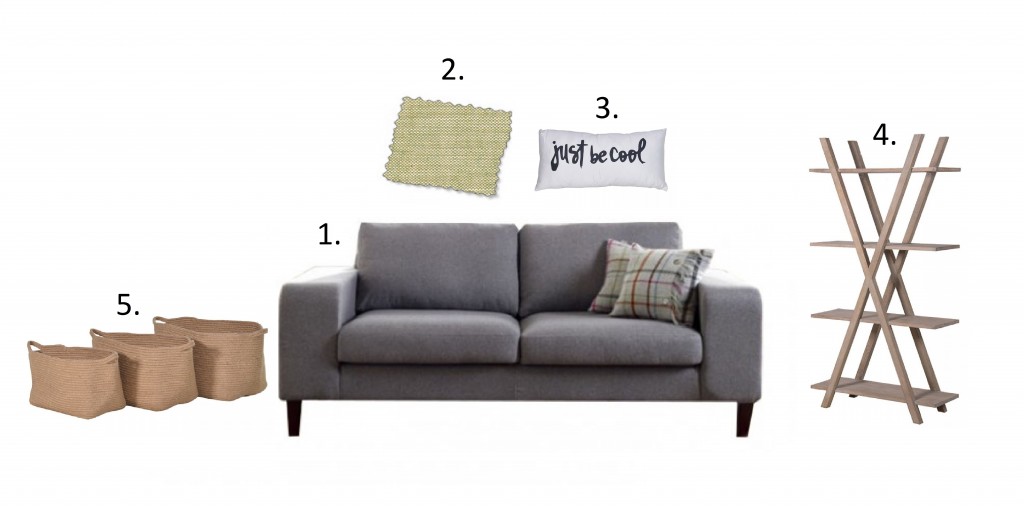 1. Wellington Contemporary Fabric Sofa – From £510
When designing and customising your ideal contemporary fabric sofa it may be difficult to choose the colour and texture that you like best, which is why we offer a free sample service which allows you to choose up to 6 swatches of fabric and have them delivered to your home. See '2.' for our spring home decor suggestion.
2. Pistachio Hard Wearing Cotton and Linen Blended Fabric – From £770
With spring around the corner, and green shoots starting to emerge from the gloomy winter soil, many people are starting to ditch the darker and colder colours for brighter, more inviting colours. We believe that pistachio green portrays spring perfectly with a calm green tone and subtle texture. This is a welcomed addition to any spring home décor.
3.  'Just Be Cool' Cushion – £18
Make your home decor as cool as the spring air with this stylish cushion.
4. X-Frame Shelf Unit, Oak – £366
With your spring clean quickly approaching, this X-frame Shelf Unit is a stylish place to store books, trinkets and any other items which may cluster up your living space. Take advantage of its practicality without compromising on style.
5. Set of Three Rope Baskets – £48
These set of three rope baskets are a stylish and practical addition to any home. They are perfect for an array of storage purposes, especially during your spring clean. De-clutter without saying goodbye to your treasured items.
Now that the light at the end of the tunnel can finally be seen and you're in the mood for some fresh upholstery, give us a call and visit our showroom, which boasts free customer parking and friendly interior advice. Alternatively, browse through our range of sofas, sofa beds and accessories by visiting our website at your own leisurely pace. Here you can look at our swatches which give you a vast range of choices. These can be sent out with next day delivery to inspire your spring home decor ideas. We have never been more excited to be part of the rebirth of your home decor this spring.